DMX512 LED Lighting Controller
ST4K Parameters:
Dimension

115*100*34mm

Signal type

DMX512

Weight

200g

Color level

RGB 256 levels

Voltage

DC 5-24V

Temperature

-20~65℃

Wattage

5W

Load pixels

2048

Output

4 ports

Software

LED CTL

Support IC

1 line:TM1804、TM1829、UCS1903、TLS3001、TLS3008;

2 lines:DMX512、P9813、LPD6803、LPD8806、SM16716、WS2801、MBI6021、MBI6024、MY9221 etc.
Panel function: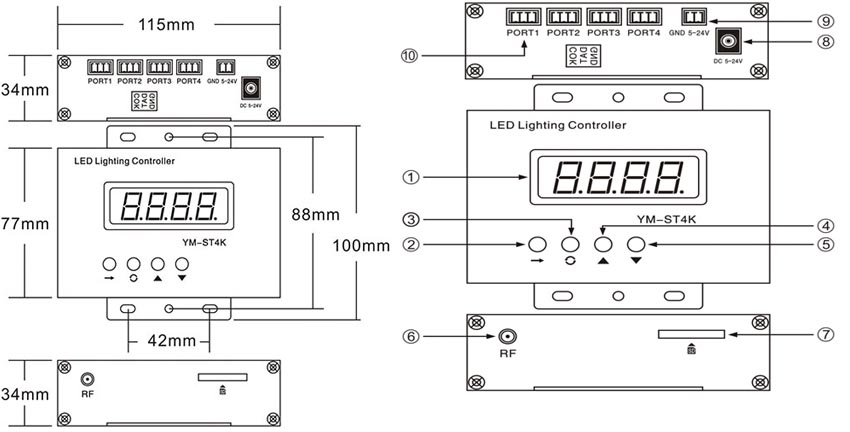 Ribbon Description:
1.Digital tube display. 2.Single mode / select program. 3.Cycle mode. 4.Add speed(1-30). 5.Reduce speed(30-1).
6.Antenna port. 7.SD card 8.Power 1:DC 5-24V;9.Power 2:DC5-24V;(use one of power)
10.Output signal port.
Remote control settings:

1.the playback speed + 2.Single / cycle 3.Play deceleration 4. Play the file plus
5. brightness plus 6. Clock plus 7. Less Brightness 8. Clock Less
NOTE 1: "2"+"4"brightness add(1-10),"2"+"5"brightness reduce(10-1).
NOTE 2: switch of power, keeping press"3"and switch on power, the controller will
change mode. There are 3 mode, sender, receiver, and repeater.
NOTE 3: switch of power, keeping press"2"and switch on power, the controller will
reset: Speed 20, brightness 10, sender mode.
Digital tube define:



1.Number of program.(1,2,3,4,5,6,7,8,9,0,A,B,C,D,E,F)
2.Blinking indicator read SD card.
3."

"means single mode,"

"means cycle mode.
5、7.Show plays speed.