Product Parameter
PN




S010030CA3SA1




S010060CA3SA1




S012144CA3SA1




Voltage




DC5V




DC5V




DC5V




LED Type




SMD 5050 RGB




SMD 5050 RGB




SMD 5050 RGB




LED Quantity

30

LEDs/m




60

LEDs/m




144

LEDs/m




Protocol




SPI - SK6812




SPI - SK6812




SPI - SK6812




Dimension




5000*10MM




5000*10MM




1

000*12MM




Pixel/m




30PCS




60PCS




144PCS




PCB Color

White/Black

White/Black




White/Black




Power




6W/M




12 W/M




2

4 W/M




O.T

-30℃ ~ 45℃

-30℃ ~ 45℃




-30℃ ~ 45℃



---
Description
30/60/74/144 individually-controllable LED pixels on a flexible PCB,
It's completely out of control and ready for you to blink,
And an extra heavy flex PCB in white & Black version,
The digitally-addressable type of LED strip. You can set the color of each LED's red, green and blue component
with 8-bit PWM precision (so 24-bit color per pixel),
The LEDs are controlled by shift-registers that are chained up and down the strip so you can shorten or lengthen
the strip, Only 1 digital out pin is required to send data. The PWM is built into each LED-chip so once you set the
color you can stop talking to the strip and it will continue to PWM all the LEDs for you,
Regarding it's flexible PCB material, you can cut this stuff pretty easily with wire cutters, there are cut-lines every
LED. Solder to the 0.1" copper pads,
You can also connect strips together to make them longer, just watch how much current you need.
---
Dimension (unit:mm)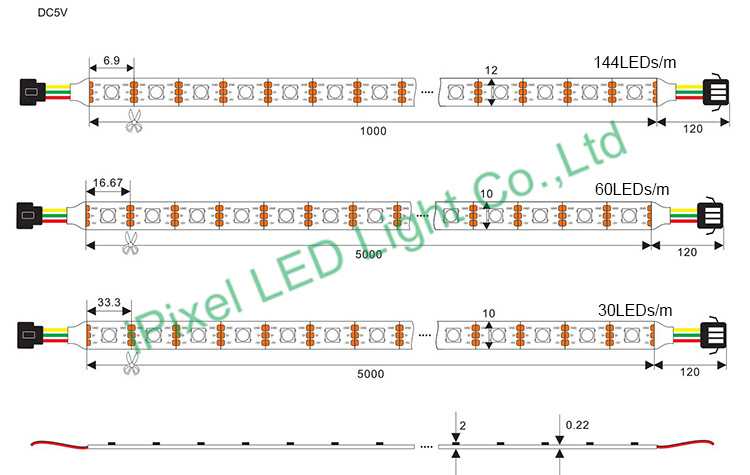 IP Rate

---
Youtube's Video